Great North Museum: Hancock Weddings
This is the perfect venue for a Great North wedding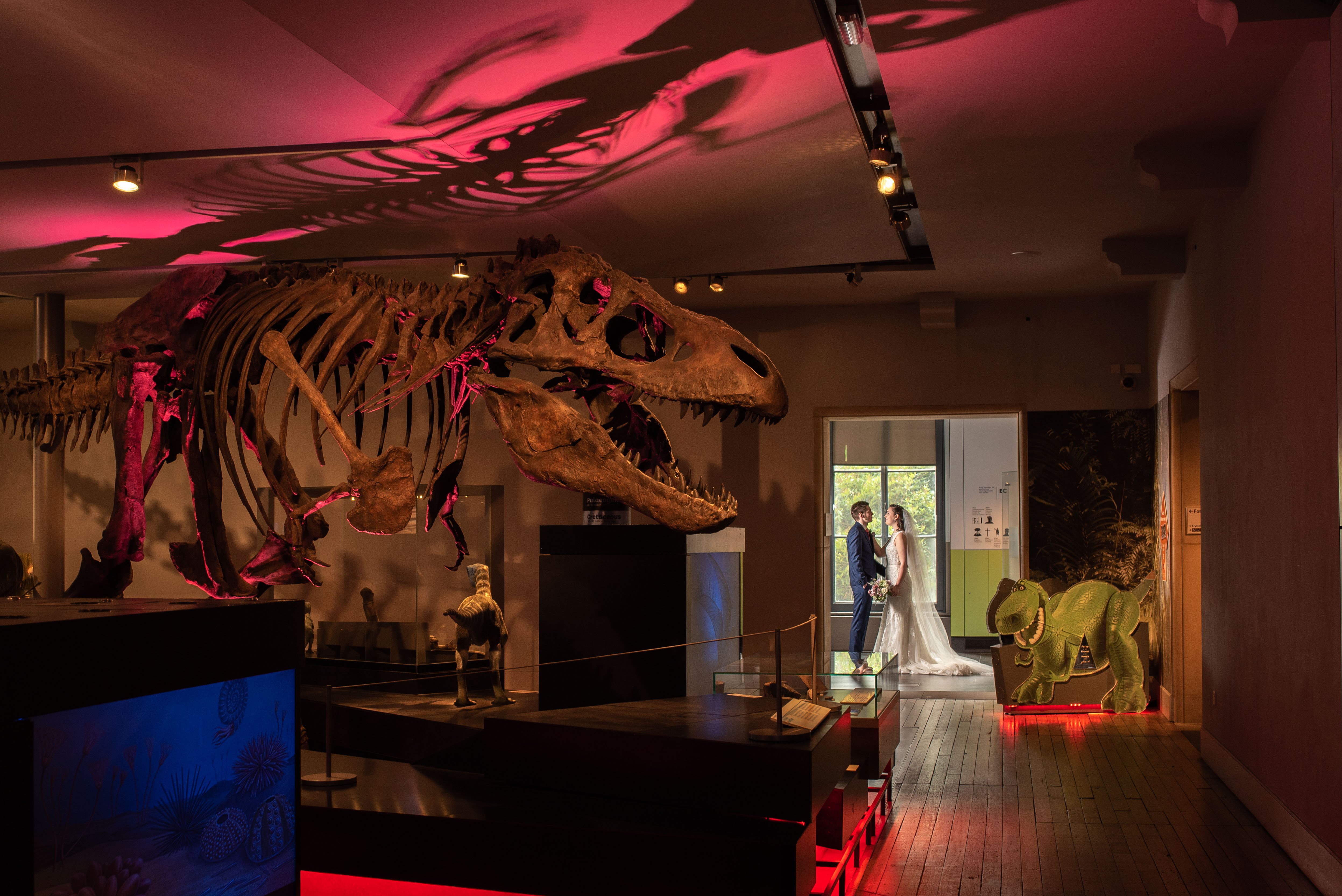 Create the day you imagined
From a full size replica of a T-Rex to the mysteries of the ancient worlds, the Great North Museum: Hancock celebrates life in all its forms. Quirky and eclectic, amazing and intriguing, with landscaped grounds and stunning spaces, this is the perfect venue for a Great North wedding.
The museum can host ceremonies for up to up to 443 guests, wedding breakfasts for up to 350 guests and evening receptions for up to 443 guests.
The Great North Museum: Hancock is situated in a prime city centre location close to transport links and a variety of accommodation.
Download our wedding brochure (PDF, 947 KB in size will be downloaded)

Catering
We work with a range of catering suppliers to provide a service bespoke to your catering needs including canapés, buffets, three-course dining and drinks.

Price
We will work with you to create your bespoke wedding package.
Contact
To find out more about hiring the Great North Museum: Hancock please contact us on:
Telephone: (0191) 277 2303 or use our contact form to get in touch.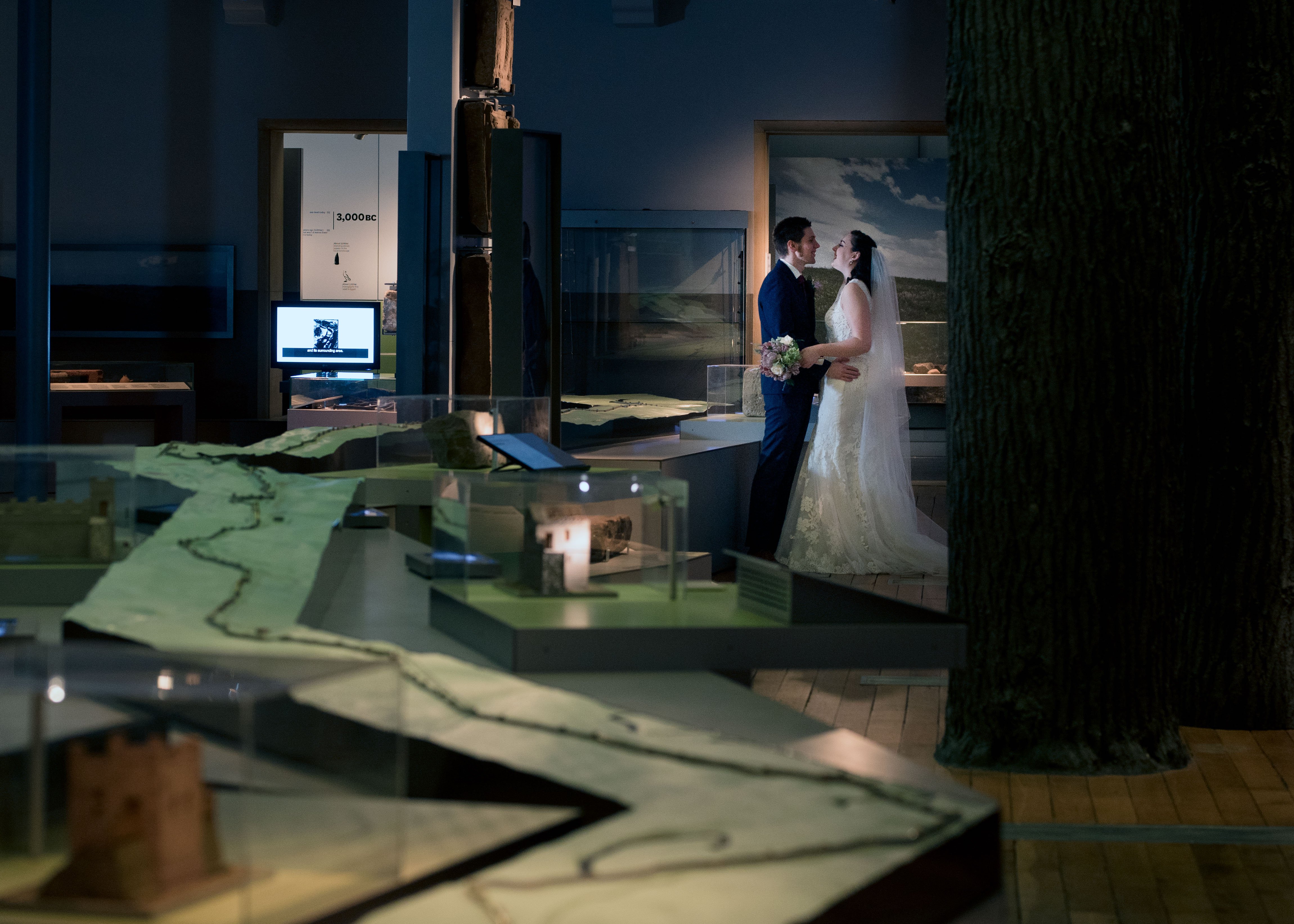 Take a look at our unique rooms
Whether you are looking for an exceptional room for your ceremony, or a special place for your wedding reception or celebration party, this museum offers versatile and unique spaces to meet your needs. We have the expertise to make the most important day of your life a treasured memory whether you are planning something intimate, or grand in every detail. Take a look at our our unique rooms and galleries for your wedding day inspiration.

Living Planet Gallery
For an unrivalled location, why not host your wedding breakfast and/or evening reception alongside an elephant and a great white shark in the fantastic, double height Living Planet Gallery?
Hadrian's Wall Gallery
Hadrian's Wall Gallery creates an exciting and unique atmosphere for ceremonies. You can even get married looking onto a T-rex! The gallery has an interactive model of the Wall which enables guests to discover the detailed history of this amazing fortification. You can enjoy also your wedding breakfast in this exciting gallery, surrounded by a wealth of archaeological finds.
Natural Northumbria Gallery
Natural Northumbria gallery will create an exciting and unique atmosphere for late afternoon ceremonies and early evening drinks reception. In this gallery you can discover what makes the North East region special in terms of the animals and plants as well as paying a 'virtual' visit to a number of sites in the area.
Exhibition Space
The Exhibition Space is a large open plan room with fresh white walls and wooden floors. The rooms can be hired individually or interlinked to create a large space and their simple, contemporary styling gives couples carte blanche to let their creatively run riot.
Clore Suite and Garden
The Clore Suite offers you and your guests a versatile space suitable for civil ceremonies, wedding breakfasts and small evening receptions. The larger Clore suite opens onto a spacious patio with a raised pond and planted area providing an ideal location for a summer drinks reception. These rooms can be used individually or interlinked to create a large space.
---
All photographs by Laurence Sweeney Photography

Reviews
"We chose the Hancock as it was different to a hotel and had interesting things around for photos and to look at. It was amazing having the evening reception in the Living Planet gallery, we totally loved it, as did our guests. We do regularly attend the Hancock and love it. Also we needed wedding pictures with a dinosaur skeleton. The food was also fantastic and the service."

Victoria and Lee
View this map on Google
Find the Great North Museum: Hancock
Interactive map with title "Find the Great North Museum: Hancock" set to location "Great North Museum: Hancock Barras Bridge Newcastle upon Tyne NE2 4PT"
View larger on Google Maps