Hadrian's Wall Gallery
Ideal for late afternoon ceremonies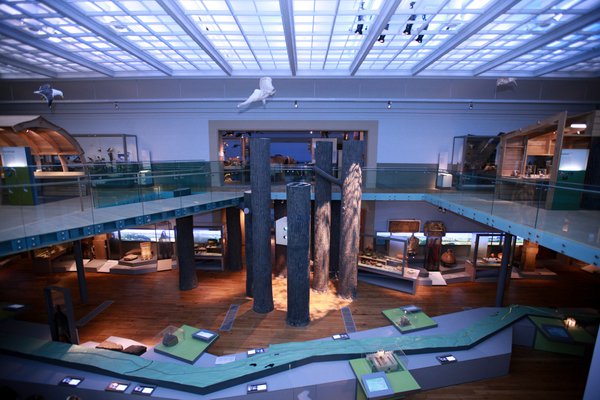 Hadrian's Wall Gallery creates an exciting and unique atmosphere for ceremonies. You can even get married looking onto a T-rex! The gallery has an interactive model of the Wall which enables guests to discover the detailed history of this amazing fortification as well as finding out about all the forts, milecastles and associated museums that can be visited today.
You can enjoy also your wedding breakfast in this exciting gallery, surrounded by a wealth of archaeological finds. For 100 guests, enjoy your wedding breakfast in Hadrian's Wall Gallery followed by your evening reception in our magnificent double height Living Planet Gallery. For 220 guests, you can enjoy your wedding breakfast over the adjoining Hadrian's Wall Gallery and the Living planet Gallery.
For couples choosing to stay with us for an evening reception, our special exhibition space, which can hold up to 443 guests, is a large open plan room with fresh white walls and wooden floors. This space is a blank canvas ready to be dressed in a theme that represent you.
Capacity
Ceremony
Wedding breakfast
Reception
Hadrian's Wall Gallery
50 (4pm ceremony)
100

-

Hadrian's Wall Gallery &
Living Planet Gallery
-
200
-
Contact us
To find out more about hiring the Great North Museum: Hancock please contact us on:
Telephone: (0844) 856 1074 or Email: events@twmuseums.co.uk and state that you're interested in hiring a space at the Great North Museum: Hancock.
Your event enquiry will go directly to our catering and events concession Sodexo Prestige.