Laing Art Gallery Weddings
Give your heart among some art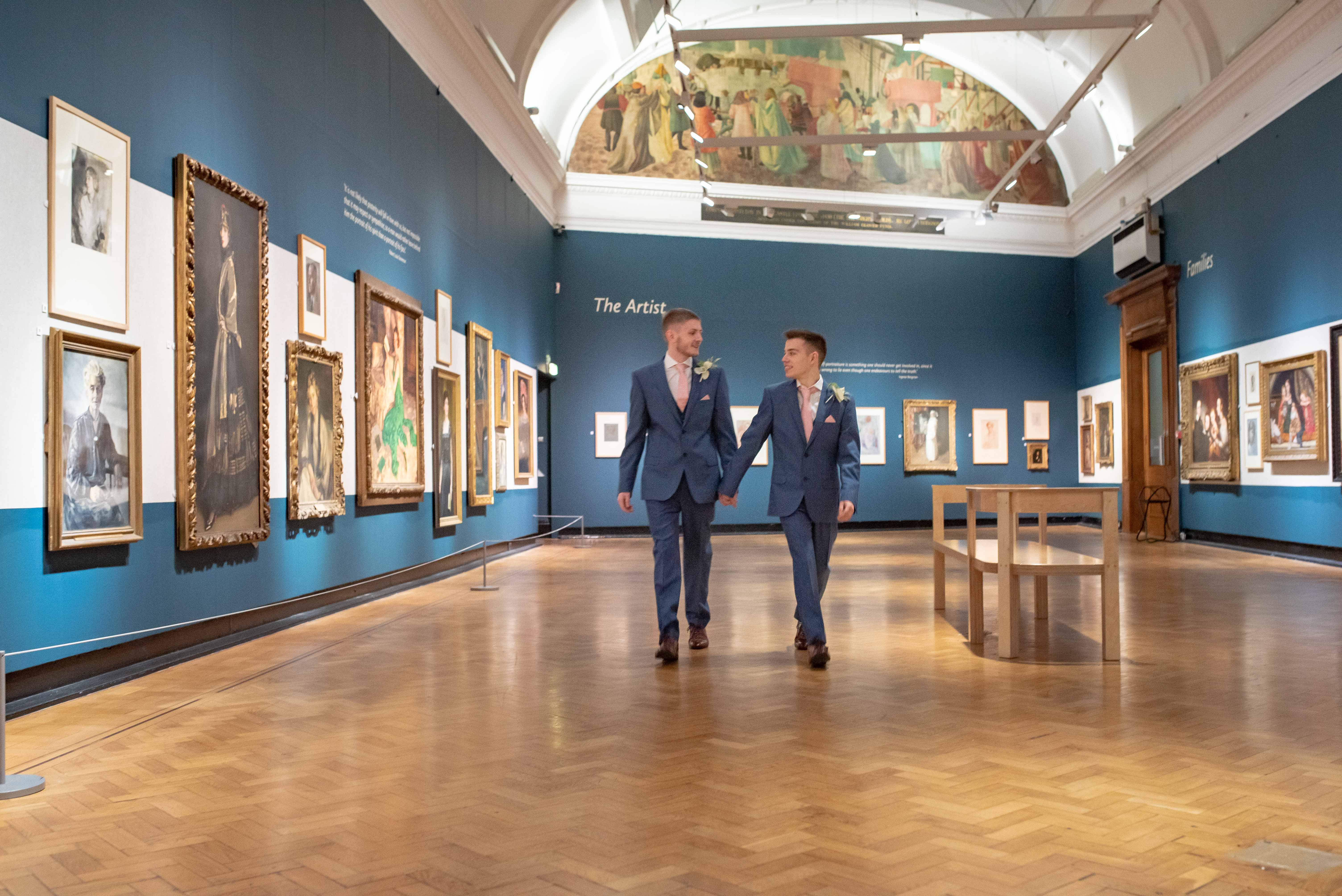 Create the day you imagined
This beautiful baroque style building, showcasing world-class art makes a romantic and elegant setting for your wedding. This sophisticated venue is ideally suited to an exclusive and intimate occasion.
The Gallery can accommodate up to 120 guests for a ceremony, up to 80 guests for a wedding breakfast, up to 100 guests for an evening reception - there are a range of elegant spaces to choose from.
The Laing is a Grade II listed Edwardian building, situated in a prime city centre location close to transport links and a variety of accommodation.
Download our wedding brochure (PDF, 947 KB in size will be downloaded)
Catering
We work with a range of catering suppliers to provide a service bespoke to your catering needs including canapés, buffets, three-course dining and drinks.

Pricing
We will work with you to create your bespoke wedding package.

Contact
To find out more about hiring the Laing Art Gallery for an event please contact us on:
Telephone: (0191) 277 2303 or use our contact form to get in touch.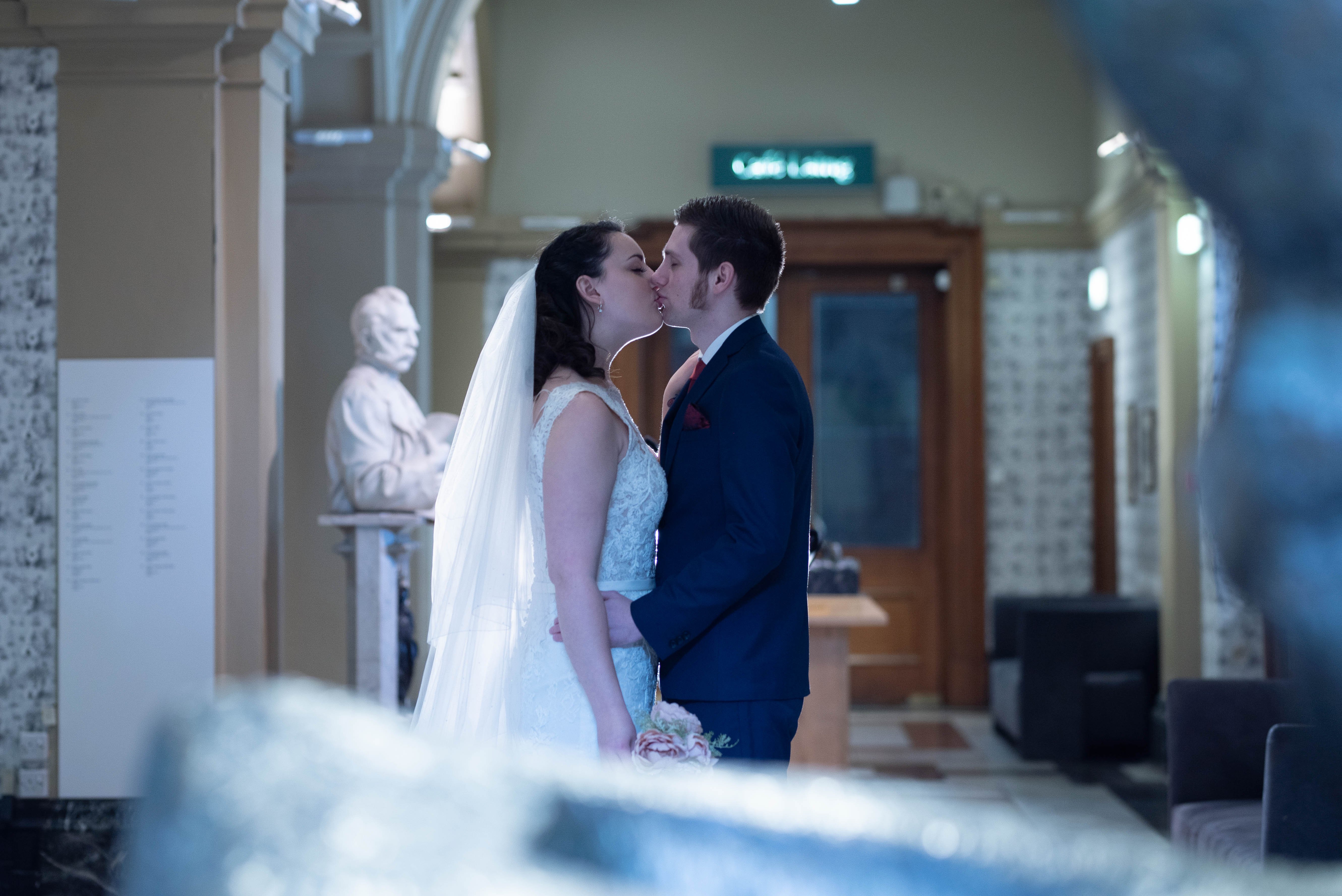 Take a look at our unique rooms
Whether you are looking for an exceptional room for your ceremony, or a truly special place for your wedding reception or celebration party, this Gallery will delight you and your guests with its originality and versatility. We have the expertise to make the most important day of your life a treasured memory whether you are planning something intimate, or grand in every detail. Take a look at our our unique rooms and galleries for your wedding day inspiration.
Collection Display Gallery
The stunning Collection Display Gallery houses works by world renowned artists including John Martin, James Orrock, David Roberts, Louis de Caullery, William Holman Hunt, Claude Rogers, Stanley Spencer, Glenn Brown and Sean Scully, and can accommodate up to 120 guests for a ceremony.
Café Laing
Café Laing, with its magnificent marble statue, offers a sophisticated backdrop for a stylish wedding breakfast for 80 or evening drinks reception for 100.
Northern Spirit Gallery
An is a ideal space for an evening drinks reception for 80 after your ceremony. This light and airy gallery situated on the ground floor tells the stories of the lives of the artists and makers who were either born, inspired or who made their career in the North East.
Laing Marble Hall
This is wonderful space to hold a drinks reception for 120 after your ceremony or an evening reception for 240. The grandiose and beautiful entrance hallway of the original 1904 gallery is situated at the heart of the Laing on the ground floor. Bedecked with plants and sculpture it is decorated with a unique installation by artist Paul Noble.
Laing Function Room
The function rooms setting in the heart of the gallery makes it the perfect space for an intimate ceremony for 60, wedding breakfast for up to 40 guests or drinks reception for up to 60 guests.
---
All photographs by Laurence Sweeney Photography

Reviews
"We had an amazing wedding at the Laing Art Gallery, the ceremony room was beautiful and the reception area was perfect for a lovely dinner and dancing! The staff were wonderful before during and after the event and made sure everything went smoothly."
Sarah
View this map on Google
Find the Laing Art Gallery
Interactive map with title "Find the Laing Art Gallery " set to location "Laing Art Gallery New Bridge Street Newcastle upon Tyne NE1 8AG"
View larger on Google Maps